Do not let the global pandemic put a damper on your future travel plans. We recognize that the stay-at-home orders has made it difficult to get out there and explore with your friends. To help lift your spirits, may we suggest a few unique and fun things to do near Collingwood that you could do in the near future as a custom tour with Blue Mountain & Collingwood Adventure Tours, or modify to suit your individual taste.
Collingwood, ON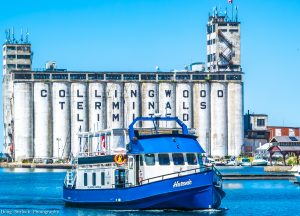 Collingwood is a place to "Live, Work and Play", and play you shall with our tours. Start off by testing your skill at Bare Axe Throwing where your group will have its own axe throwing coach.  The big fireman axe comes out for the finals!
Next, we drive to downtown Collingwood for a stop at the Collingwood Olive Oil Co.  At their tasting bar, sample the highest quality extra virgin olive oils harvested from the most current crops around the globe.  Their boxed sets and condiments make terrific gifts, or treats for you.
The Chipper is one of our favourite places to stop for an outdoor lunch (from mid April to mid September) in a park setting on the shore of Georgian Bay.  The view is spectacular and so are the fresh-cut fries!
Then we're off to the harbour where you'll board The Huronic (named after the first steel hull launched in Collingwood harbour), operated by Collingwood Charters, where you enjoy a Wine or Beer & Cheese Sampling Cruise.  Your guide will give you a tour around Nottawasaga Bay and tell you about Collingwood's shipbuilding history. At the same time, you sip on local wine or beer paired with artisanal cheeses.  Once back on land, we'll drop you back to your hotel, chalet or lodging.
Staying longer than a day – here's some notable suggestions:
1) Every Saturday, visit Collingwood Downtown Farmers Market for fresh produce and treats.
2) Don't miss the culinary adventure trail known as the Apple Pie Trail. South Georgian Bay's apple-growing history inspires it.
3) Take a workshop and make your own candles at The Serendipity Candle Factory.
---
Grey County and the Town of Thornbury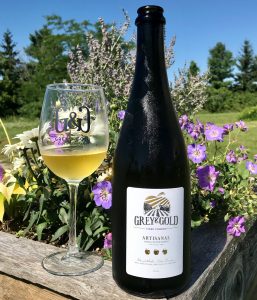 Grey County is home to ten serene, picturesque, and natural waterfalls scattered across the landscape, and there is no doubt each unique waterfall will take your breath away. Your day starts with a morning pick up by your driver in a comfortable mini-coach or luxury executive coach bus.
Hoggs Falls, our first stop, is a plunge waterfall that is just over 7 metres tall and surrounded by lush wilderness. If you're adventurous, you'll want to take the rope down to the base of the falls. The second falls on the tour is Eugenia Falls; the tallest and was home to the first "Fools Gold" rush in the region. This area later housed five mills and a small private electric plant.
Then we'll head to Grey & Gold Cider, a sustainable, farm based cidery in the heart of Grey County apple country.  Enjoy a glass of refreshing, award winning cider such as "Modern Girl", an off-dry modern cider back-sweetened with honey from their farm property.
The Grill at Lora Bay is a great place to stop for lunch on their patio, overlooking the golf course.  After you've finished your meal and taken in the relaxing views of the greens, you'll be dropped off in downtown Thornbury.  Here you can enjoy some free time to wander and shop the boutiques, art galleries and quaint shops this beautiful rural town has to offer.
We head back along Highway 26, which offers a fantastic view of the Georgian Bay shoreline. See you next time!
Staying longer than a day – here's some notable suggestions:
1) Visit the Frauxmagerie for plant-based cheese that uses Cashews and a Vegan probiotic in the fermentation process.
2) Ted's Range Road Diner is a little place that someone like Guy Fieri himself would have on Diner's, Drive-ins, and Dives. Cannot miss it!
3) Explore the 1,350-km Georgian Bay Coastal Route with scenic stops marked along the way (Manitoulin Island, Killarney, Wasaga Beach, Bruce Peninsula etc.).
---
Blue Mountain, ON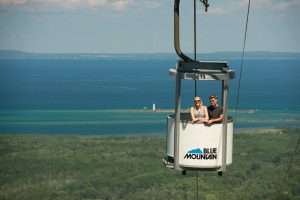 There is only one place in the entire Bruce, Grey and Simcoe area in Ontario that is known for its recreational activities, and that is Blue Mountain. For those from out of town, it is well known as a winter destination, but when the snow is gone, and the heat is on, it is a place you do not want to miss out on.
Start your day with a hike through the Bruce Trail, part of the Niagara Escarpment, with a local guide, as you marvel at the Caribbean blue waters of the Georgian Bay. At noon, we head to Copper Blues Bar & Grill, the pioneer restaurant in the Blue Mountain Village, for lunch.  Do not forget to pair it up with some local craft beer or cider.  After lunch, enjoy an open-air gondola ride with a 360-degree view as you approach the top of Blue Mountain.  This is a photographer's dream.  As our time ends in Blue Mountain, we take you back, right where our friendship started. Our Blue Mountain adventure ends here, but the memories will last a lifetime.
Staying longer than a day – here's some notable suggestions:
1) Enjoy an adrenaline-filled ride with Hummer Tours operated by Extreme Adventures
2) Swim and soak up some sun at the Blue Mountain Beach, free to overnight guests.
3) Explore the Scenic Caves at Blue Mountain dating back 450 million years. Ontario's largest suspension bridge, 15 km of trails and 200-year-old forests are just some of the attractions worthy of your time.
---
Yours to Discover
No matter what type of tourist you are, each one of these stops provides something unique for everyone. We at Blue Mountain & Collingwood Adventure Tours assure you and your party will have a great time as you discover all that this region has to offer.
For our signature tours and adventures, check out our tour page.  Or Contact us for more information on these suggestions, or to customize your next adventure.
For now, stay close to home, support local businesses, and help fight the spread of Covid-19. Together we will come out stronger. We look forward to seeing you soon!
Cheers!