Winter is a season you either embrace or really dislike.  Those who dislike it, may still be hesitant to get on an airplane and head south as Covid numbers climb.  Travel surveys indicate that road trips will continue to be popular, as people want to avoid sharing small spaces with strangers.  So why not make the most of winter, and plan a "staycation", "workation", "daytrip" or the old fashion term "holiday", close to home.
A Truly Unique Rural Canadian Experience
Despite vaccination efforts, a significant number of individuals want fewer interactions with people, yet still want to enjoy nature and open-air activities.  We've recently added a new experience to our all-inclusive winter tours, Orchard Trek & Tasting, which is totally outdoors.  Your (small) group of friends will be picked up and driven to a local orchard, where your guide will take you snowshoeing.  Afterwards, warm up by a fire with hot hard cider, or cold if you prefer.  Then visit another local cidery for a tasting of their award-winning craft cider.  This is a wonderful way to embrace winter, connect with nature, enjoy some local craft beverages, relax and unwind in a rural setting.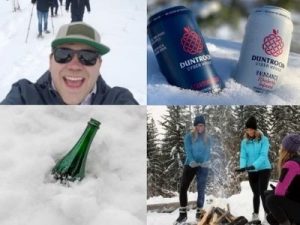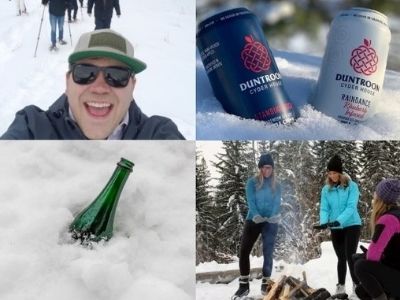 Wine Tasting Always Makes Winter Enjoyable
If you enjoy nature, getting a little exercise and are comfortable being indoors with socially distanced seating, then we recommend a Snowshoe, Waterfalls & Wine Tour.  You'll see two of the most impressive waterfalls along the Niagara Escarpment.  They are truly Instagram worthy, especially when frozen.  After a stop for lunch, you'll visit a local vineyard to taste a flight of their cool-climate wines paired with cheese.  Then we'll take you to one of the area's best craft cideries to sample a flight, before heading back.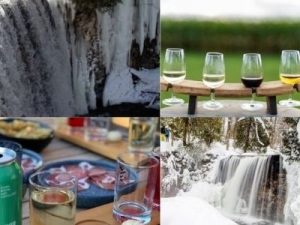 Beat The Winter Blues
Whether you're looking for a Blue Mountain wine tour, Collingwood brewery tour, snowshoeing or skiing, there's an abundance of fun things to do in Collingwood and the Blue Mountain area.  So why not beat the winter blues, and take advantage of the government's Ontario Staycation tax credit in 2022.  They're actually rewarding you to stay and play!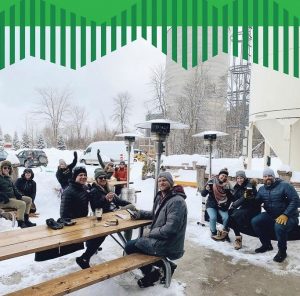 Although many of us like to be spontaneous, Covid has taught us that planning and booking ahead is a requirement for many things.  So now is the time to get your friends, or family, inspired to take a break from your daily routine, plan an escape and book your adventure, while visiting Collingwood or Blue Mountain area this winter.